Since the publication of my post, Victoria's pictures for Chinese Harper's Bazaar became available online. I have to say I prefer these editorials to the British version.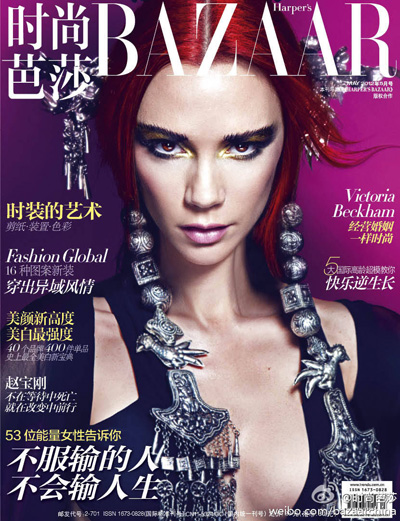 Victoria Beckham is featured on the cover of Harper's Bazaar magazine May issue. The article is titled " Queen Victoria on Conquering The Fashion World". Pleaseee who died and made her Queen? And when did she beat designers such as Karl Lagerfield, Marc Jacobs, Vivienne Westwood, Valentino Garavani et al. to conquer the Fashion World?
OK so lot of us are fascinated by this woman, who was once a member of a famous girl group but could not achieve any success as a solo artist. The fact that her husband is a famous footballer made the two a source of interest for the paparazzi world. She was well known as a WAG (Wives and Girlfriends of footballers) until with the help of a lot of cash and some good connections such as Manager Simon Fuller.
The Beckhams then began to associate their selves with a few more well connected people. Remember poses with Tom Cruise. How about the shopping and fashion shows attended with Katie Holmes, who seems to have distanced herself from the WAG.
Another of those well connected people are designers Roland Mouret and Marc Jacobs. According to an article published in The Telegraph,by Belinda White on 05 January 2011, Roland Mouret became increasingly fed up with everyone wanting to know whether he designed her dresses for the first collection when she hurled herself into the fashion scene.
" Mouret retorted with the following outburst: "Oh my God, that question! Politicians, movie stars, it's always the first things they want to know and I'm like, why? Why would I want to design a collection for Victoria Beckham?
"Yes she is a friend and yes she asks for advice and yes I told her the name of a pattern cutter, but she has lots of friends she asks for advice - Marc Jacobs. I like to help people that's all."
Victoria Beckham declares that she can't draw but neither can so many other designers!
"I don't draw, but nor do lots of designers. I tie things around me, I experiment with ideas and I try to work out a way to make everything flattering and make a woman feel beautiful."
So that explains it really. Designing clothes isn't that hard at all. All you need is to drape some fabric around you and make it look beautiful. Hopefully others will recognise your talent and give you an award. As they have in Victoria's case.

There's more revelations from the Designer, in Harper's Bazaar magazine on page 124.
" We always joke that we have this fabulously gorgeous 17-year-old model who is six-foot-whatever and I say "OK, I'm going to put it on. I stand for the general public here" It's how I work."
Get real Victoria. You at size 6 do not stand for the general public, who is an average size 16 in UK and the general public do not walk around in £1000 plus dresses. They can't fit into or afford your dresses. Seriously!
So while Mrs Beckham bathes in the glory of her success! We can look at her poses for the magazine.
Lastly, I can't help but think what a transformation she's had since the photo below.